Cameron! Crowe!
You don't know Cameron Crowe. And that's too bad.

As a youngster, Crowe was not ordinary. He was gifted. He wrote movie reviews for an underground publication by age 13, and corresponded with Lester Bangs, editor of rock mag Creem. He was editor and journalist for Rolling Stones at 15. That means he hang with the hottest and nearing-hottest rock bands. Ben Fong-Torres, editor of the magazine, said once, "He was the guy we sent out after some difficult customers. He covered the bands that hated Rolling Stone." At 24, he published a book, and it became a movie a year after. The movie launched the careers of Jennifer Jason Leigh, Nicolas Cage, Eric Stoltz, and my favorite Sean Penn.

He went on and directed. After Singles, and Say Anything, he made the movie that gave us the line "You complete me." Jerry Maguire was a big hit. It introduced Renée Zellweger to the world, and I loved her since. Then there was the autobiographical Almost Famous, one of the few movies I'm not tired of watching over and over.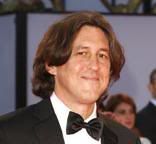 Left: Patrick Fugit as the young Crowe, William Miller, in Almost Famous.
Right: Crowe in tux.

His two most recent films Vanilla Sky and Elizabethtown were severely panned. What's up with that? Has Crowe lost his touch? Maybe it's just the fault of the rigid skills of Tom Cruise and Orlando Bloom. No offense to their admirers. Or maybe Crowe compromised to please his bosses. Or maybe it's entirely Crowe's fault.

But he definitely has not lost his touch choosing the PERFECT soundtrack for the PERFECT scene. Remember the band singing Elton John's "Tiny Dancer" in the bus? People or a person singing in an auto is Crowe's trademark. It's in every single film of his.

He's not Steven Spielberg but I love Cameron Crowe. Why? Because he has "been able to make a few movies in the studio system that are slightly unorthodox and personal." Although "it's never quite as easy as you dream that it could be." Man, that's called courage and heart.

Plus, we almost have the same hairstyle. Beat that.

credits to IMDb.com and Wikipedia for pics and facts.