The Better Bloom than Orlando
Unlike most comic lovers who are into superhero issues, my version of pleasure from this particular branch of the arts is this: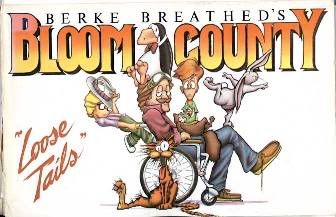 "Loose Tails", first collection of Bloom County strips

This is the door to the world of Bloom County, the only place in America where children have adult IQs, animals talk, and anxieties literally live in closets. This comic strip created by Pultizer-prized editorial cartoonist and journalism major Berke Breathed ran from 1980-1989. Because of its outdatedness, it's unusual for a girl who was born in the latter part of the 80s to take any interest in it. Breathed once said, "A good comic strip is no more eternal than a ripe melon. The ugly truth is that in most cases, comics age less gracefully than their creators." Well, his strips don't, at least for me.

Bloom County is not only funny, it is also satirical. It provides a witty social commentary seen through the lives of zany characters. Opus is a duck-billed penguin that gained considerable popularity roughly in the line of Garfield and Snoopy. Milo Bloom is a 10-year-old newspaper journalist who runs The Bloom Beacon. John Cutter is a Vietnam veteran and an anti-war protestor. The dumb, womanizing attorney Steve Dallas is the antagonist. My personal favorite and owner of the anxiety closet, Mike Binkley, is Milo's wishy-washy classmate who's obsessed with the lives of pop culture icons. Oliver is a wiz kid who has a long crime record for hacking into top-secret government sites.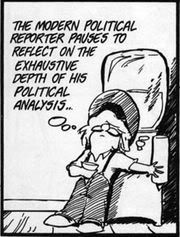 Milo Bloom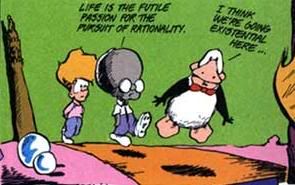 a panel taken out of context

I'm currently saving up for a copy of the second Bloom County anthology entitled "Classics of Western Literature." After the two-week long hell of midterm exams, reading "Bloom County Babylon" (the first anthology) marks my liberation. Whoo.

credits to Wikipedia for the photos and facts.