Pope John Paul the Great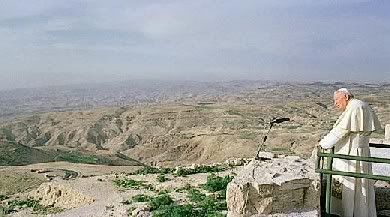 The venerated head of the Roman Catholic Church and Bishop of Rome passed away at 3:37 am (Manila time) today. It is a time to look back at the holiness and momentous contributions of Pope John Paul II. It is not a time for regret though 'cause we all know that he's going Heaven, he's going to heaven, he's going to heaven.
It is the first time that I felt grievous for the death of a world icon. I didn't have the opportunity to see him when he visited the Philippines in 1995 because I was just in first grade then but he touched my life and his influence has been immense on billions of people and not only Catholics at that.
Let me enumerate some of his work:
He is one of the factors of the liberation of the Soviet Union. He influenced the restoration of democracy and religious freedom in many countries. He also governed the Catholic Church from solid conservatism, opposed political participation of priests, and explained the issues that continue to divide the Christian churches. He's not only the leader of the Catholic Church but also an esteemed icon of many religions and Christian denominations. And most importantly, he was living example of the goodness of God and he's a great man who cannot be described with only a few words.
I can write endless things about him and there isn't one that's not good. He deserves the title John Paul the Great to distinguish him in history and to emphasize what he did for the world.
That's the Pope gazing out on the Holy Land from Mount Nebo. It was from this site that Moses first glimpsed the Promised Land.